Don Martin
Legendary broadcaster Don Martin passed away Wednesday September 4, 2019.

A 2007 inductee into the Broadcast Pioneers of Colorado Hall of Fame, Don was a newsman, traffic reporter, program director, producer and commercial voice in Denver, on the air over five decades.
Best known for his work on KIMN and later KHOW, Don Martin carved a unique, long and successful career at stations including KTLN, KOA, KMYR, KFML, KLAJ, KJAE and KICN.. It began at KDFM, when as a junior at South High School; Martin built and programmed his own station, using his own initials for call letters. It was licensed by the FCC and covered only his immediate neighborhood. Don's career as a broadcaster was officially launched after serving in Korea and following briefly working for the Denver Police Department, he joined KIMN working with Ken Palmer.
For much of his career, Don not only was on the air but IN the air as Denver's first traffic reporter, flying over the skies of the metro area. It was Don Martin who coined the still-used "Mousetrap" to describe the traffic clogged intersection of I-25 and I-70.

A commanding voice and presence in Denver radio news, Martin built an outstanding news operation as News Director of KIMN radio. When the station was sold Martin moved the equipment and staff to KLAK/KJAE-FM. Soon, KIMN was resold and Martin was invited back and once again, KIMN News became a news force in Denver.
He was KHOW's "Sky Spy" to a generation of Denver drivers, issuing traffic reports from the plane he flew over the city. He was also a commercial voice for the Shane Company and many other clients. He also voiced many of the Hall of Fame tribute videos for BPC.
For an example of his live news reporting, here's an excerpt of him covering the destruction of the old Hampden Street bridge during the 1965 South Platte River flood (courtesy Tom Peyton)
We thank Don Martin for all he did for broadcasting in Colorado. Our thoughts are with all of Don's friends and family
Westword's tribute to Don Martin
Noell Custer
Our friend Noell Custer passed away Tuesday, February 12th 2019. In addition to being a Hall of Fame Broadcaster (Class of 2013) she was a skilled artist. Noell was the wife of BPC Chairman Ken Custer.

Noell was born and raised in Denver. She graduated from East High School in 1957. In 1959, she graduated from Stephens College in Columbia, Missouri. She returned to Denver and graduated from the University of Denver in 1965 with a BFA in Advertising Design.

She went to work at KLZ-TV, where she would spend nearly 20 years. From 1965 to 1967 she worked with Hall of Fame members Fred & Fae Taylor as a production assistant on their children's program. She handled birthday club reservations and greeted the children arriving for the program.


In 1968 she created Noell and Andy, a morning show for children that ran five days a week for nearly 15 years. Noell and her dragon hand puppet Andy became one of the most watched children's show on Denver television. Noell and Andy not only entertained grade school age children, but created expanded areas of interest to the young viewers.


Noell made frequent appearances in school classrooms and served as a regular host on both the Channel 6 Auction and the Jerry Lewis Muscular Dystrophy Telethon. She was recognized by the Association for Children's Television (ACT) and the Colorado Coalition for Children" for her work providing positive entertainment for youth.

As Colorado approached its centennial year in a 1976, Noell researched, wrote and produced a series of 65 Five minute Colorado History features titled "Centennial Colorado," an ambitious project that aired on KMGH-TV.

Known for her drawing on TV, Noell left TV to focus on her art. She is a signature member of the Colorado Watercolor Society.

You can watch the video tribute to Noell from her Hall of Fame induction here.
A celebration of Noell's life will be held Sunday, March 3rd at 2:30pm at the Golden Community Center at 1470 10th Street in Golden, CO 80401.
In lieu of flowers, the family suggests a donation in Noell's memory to the Broadcast Pioneers of Colorado (PO Box 261354 Lakewood, CO 80226). You may also click here to make an online donation via credit card.
We thank Noell Custer for all she did for broadcasting in Colorado and for the Broadcast Pioneers of Colorado. She touched many lives and helped educate many children. She made a difference.
Our thoughts are with Ken and the entire Custer family.

Steve Conklin
BPC President
Irv Brown
The legendary Irv Brown, 2016 inductee into the Broadcast Pioneers of Colorado Hall of Fame and BPC member, passed away this morning (Sunday) at age 83. According to 9News "Brown died in hospice in Denver due to an aggressive form of lymphoma."
Irv Brown was an unlikely broadcaster. A graduate of Denver's North High and the University of Northern Colorado, Brown initially pursued a career coaching baseball, first at the junior high school level, and then at the University of Colorado, where he was also an assistant football coach under Eddie Crowder.
Brown also was a renowned basketball referee who became director of officiating for the Western Athletic Conference and officiated six NCAA Final Fours.
Throughout a career spanning over 40 years, Brown hosted sports talk at numerous stations...KLAK, KYBG, The Zone, The Fan and Mile High Sports Radio. For most of his career, he teamed with Joe Williams, a former caller who became his broadcasting partner. Irv & Joe also hosted a television version of their show for Comcast.
Brown was on ESPN's first live sporting event at a softball tournament in Wichita in 1979. He also called ESPN's first college football broadcast between Colorado and Oregon at Folsom Field. At ESPN, he announced college football and basketball, bowling, body building and billiards competitions.
Brown retired from the air in 2016. He was inducted into the BPC Hall of Fame later that same year. You can view his induction tribute video here.
"Got a card?" was Irv's common question when meeting someone new or re-connecting with someone. He'd often be able to tell someone stories about their high school, typically who was a key player or coach of the time. Having worked with Irv at 950 the FAN it was amazing to watch him at his frequent remotes. Irv was one-of-a-kind.
We honor Irv's contributions to broadcasting. Our thoughts are with his wife Pat and the rest of his family.

Steve Conklin
BPC President
Merwin Smith

Merwin Smith, a veteran of both radio and television in Denver has passed away. He began is career at KYOU while attending Colorado State College of Education in Greeley. After serving in the Army as an announcer and program director for Armed Forces Radio in Tokyo, he returned to Denver at KFEL-AM. When KFEL started Denver's first television station, Channel 2, Smith was the second announcer heard on Denver television airwaves. He went back to radio, hosting KIMN's evening music program as the "Tune Smith".
His most prominent work was at KLZ radio and television, where he was an announcer, news and weather anchor, produced and acted on the Funny Papers show and served as program director. He later oversaw the Time-Life 7 Productions which produced award winning documentary and industrial films and commercials.
Aside from his broadcasting career, he was the advertising voice of Coors Beer for many years. He also narrated over 465 talking books, for which he was honored with the Alexander Scourby Award by American Foundation for the Blind.
He was preceded in death by his wife Diane, and is survived by a son, Mark, and daughter. He was a longtime active member of the Broadcast Pioneers of Colorado and will be greatly missed.
Bill Armstrong (1937-2016)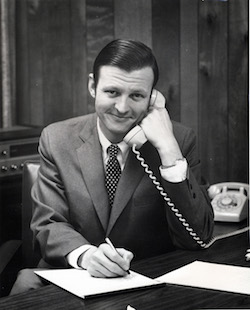 Before entering a lengthy and successful career in politics, Bill Armstrong was one of Denver's foremost broadcast executives.
Bill began his radio career in his hometown of Fremont, Nebraska. After moving to Denver, he became the owner of KOSI-AM and FM at age 22, and also served as president of television stations in Wyoming and Idaho.
While involved in broadcasting, he won election as a Republican to the Colorado House of Representatives and Senate before moving on to federal office as U.S. Congressman for Colorado's 5th District in 1972 and U.S. Senator from 1978-90. In the Senate, he championed the effort for live television coverage of Senate proceedings.
After his career in politics, he remained active in the business world and served as President of Colorado Christian University before stepping down in 2016.
Bill Armstrong was inducted into the Broadcast Pioneers Hall of Fame in 2006.
Denver Post Obituary for Bill Armstrong.
Bill Pierson
Bill Pierson spent over 40 years in broadcasting as an announcer on radio and television, primarily in the Denver market. His most lasting contribution to the industry was as the founder and owner of KBPI-FM which helped popularize the FM band in Denver.
KBPI's transmitter intially was located in the historic Daniels and Fisher tower in Downtown Denver and Pierson's efforts helped preserve the historic landmark from destruction.
In addition to his station duties, Pierson also founded a broadcasting school that trained hundreds of future broadcasters who worked all over the country.
Pierson was a 2013 inductee into the Broadcast Pioneers Hall of Fame.
Ron Mitchell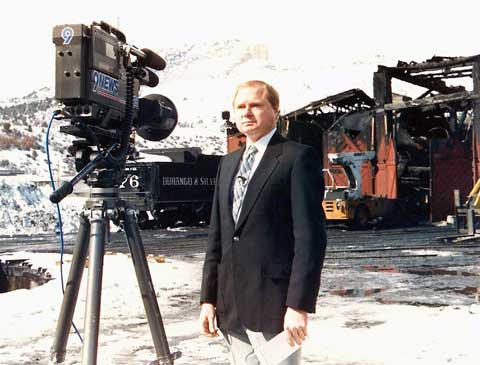 Longtime KBTV/KUSA news reporter Ron Mitchell passed away suddenly at his home on March 23, 2016.
Ron was the first inductee in the Broadcast Pioneers Hall of Fame whose career was primarily as a general assignment reporter.
Ron started in radio, working at several Denver area stations including KOSI and KBTR before moving to television in the early 1970s. He also filled in as a news and sports anchor and assignment editor. He remained at Channel 9 until his retirement in 1995.
Ron was an active BPC member, most recently serving as Treasurer and had been compiling materials from the career of Carl Akers.
Our condolences go out to his wife Judie and the rest of his family. He will be greatly missed.
Denver TV Then and Now. Hosted by Ron Mitchell and featuring several BPC Hall of fame broadcasters.
Arch Andrews
Arch Andrews passed peacefully on January 30 at his home with family by his side. Arch was born on February 6, 1928 in Minneapolis, Minn. He served in the US Marine Corps before beginning a career in TV and radio. He served as chief announcer of several radio stations in No. Dakota, Iowa and Colorado. He is best known in the Denver community as "the voice" of The Division of Wildlife where he worked as the Chief of Public Affairs. For nearly 17 years he was seen on Channel 9 with his program "Wildlife Reports," possibly the longest-running local TV series.He is survived by his loving wife Bev Andrews of Littleton, 2 sons Jeffrey and Charles "Buck", 2 daughters Janette and Patricia and 4 stepchildren - Pamela, Tim, John & Jodie. Together, Arch and Bev have 13 grandchildren and 13 great grandchildren. A reception to celebrate his life is scheduled for Saturday, February 6 (his 88th birthday) at Riverwalk Clubhouse, 2751 W. Riverwalk Cir, Littleton, CO 80123 from 4pm-8pm. In lieu of flowers, donations can be made to The International Order of Rocky Mountain Goats.
Published in Denver Post on Feb. 1, 2016
See more at: http://www.legacy.com/obituaries/DenverPost/obituary.aspx?n=Richard-Andrews&pid=177521796#sthash.PJAVKnKm.dpuf
Herb Schubarth
We have learned that Broadcast Pioneer and 2010 BPC Hall of Fame Inductee Herb Schubarth passed away Wednesday, March 18th.

Herb Schubarth is recognized as an outstanding technical innovator who used his skill and knowledge of electronics to consistently improve broadcasting.

Herb served in the Navy in WWII where he taught radar electronics. Following his discharge in 1949 he was hired as a radio engineer at KRDO-AM in Colorado Springs but eleven months later was recalled to serve in the Korean War. After returning to KRDO as the Chief Engineer, he was instrumental in designing and installing the technical TV facilities which put KRDO-TV on the air in 1953.

Herb joined Channel 9 in Denver in 1961 and remained there throughout his career. In a message to KUSA staff informing them of Herb's passing, General Manager Mark Cornetta called him "a pioneer in television and a first class human being."

One of his early duties at then-KBTV was to drive a remote truck from Washington, DC to Denver which was Channel 9's first non-studio broadcast facility. He later built the first 9NEWS live truck (right) in his driveway. "(It was) a place to work so that nobody else would know what we were up to, for competitive reasons," according to Herb.

As Channel 9's Chief Engineer by 1967, he was soon named to an additional position as Corporate Director of Engineering for Mullins Broadcasting and it's successor Combined Communications Corporation.

He was named the VP of Engineering for Gannett Broadcasting and Combined Communications Corporation in 1981. While at Gannett he was a member of the capital committee overseeing and approving capital projects throughout the corporation. At retirement he was responsible for 16 TV stations and 13 radio stations.

Herb Schubarth served as the President of the Institute of Electrical Electronics Engineers (IEEE) for three years, and was a long time member of the Society of Motion Picture and Television Engineers (SMPTE) and a member of Maximum Service Telecasters (MST). In 1993 Herb received the National Association of Broadcasters (NAB) Engineering and Achievement Award and in 2010 joined the Broadcast Pioneers of Colorado Hall of Fame.

Our thoughts are with Herb's family and friends, including his extended Channel 9 family.

Claude Pettit
We have learned that Broadcast Pioneer Claud Pettit has passed this week.
In 1943, High school junior Claud Pettit worked Sundays for KFKA at their Record Stockman studios. That was the start of a broadcasting career that would span six decades.
Reverend Claud Pettit pastored in several churches beginning in 1952. In 1955 he became known as "The Country Parson" on KLAK in Denver. He hosted a regular program featuring country style gospel music. (Coincidentally, January 8th marks the 60th anniversary of KLAK's sign-on).
In 1960, Claud and his late wife Margaret bought KEOS Flagstaff. In April, 1966 they bought KWIV in Douglas Wyoming. In March of 1974 they applied to build a station in Brush, Colorado The license for KCMP AM was granted in 1976. In 1980, they were granted a license for an FM in Brush. They sold in 1981, and were temporarily out of radio ownership.
In 1989, they again became owners in Brush, of KKDD and KKGZ (which had been KCMP, and is now KSIR). They sold the stations in 1990.
Claud was a Trustee for Colorado Christian College which owned two radio stations and a TV station.

Claud (left) at the December Holiday luncheon, seated next to Phil Stinemates and Steve Keeney. Claud shared a story of meeting Vice President Hubert Humphrey in Denver. Claud was the Chairman of the radio committee at Western Bible Institute (which became Colorado Christian College, now Colorado Christian University).
Claud was 88. Our thoughts are with Claud's family, and we will remember his contributions to broadcasting in Colorado and beyond.
Diane Smith and Jacqueline Askey
You may already be aware that two BPC members spouses passed away recently. Jacqueline Askey, wife of Bob Askey, died December 18th. At Jacqueline's request there was no service. Diane Smith, wife of Merwin Smith died on December 16th. A memorial service is pending.
Our thoughts are with both Bob and Merwin, and their families