KCSJ-TV™— In The Beginning: By Bill Baker...With special thanks to Ed Taylor for finding these lost photos of KCSJ.
KCSJ-TV, went on the air June 14, 1953, 51 years ago. It was not the first television signal in Pueblo. KKTV, channel 11 in Colorado Springs beamed their signal 40 miles south and their weak picture was received by Puebloans who had high powered antennas aimed at Cheyenne mountain, their tower site as well as a myriad of other towers including various military applications. The wealthier people of Pueblo who could afford a television set and a good outside rooftop antenna received a television signal of dubious quality.
Events leading up to the June 14 start date were two entrepeneurs Doug Kahle and Bob Clinton purchasing KCSJ radio from the Frank Hoag family. The Hoags, owned the two newspapers in Pueblo, the Chieftain and the Star Journal, the evening paper, hence the call letters CSJ.
Television was starting to spread like a plague across the country. Puebloans were infected like everyone else and retailers were offering tv sets for sale. Tire stores, auto dealerships, and furniture stores jumped on the bandwagon to name a few. New businesses were spawned by workers who climbed houses to install television antennas and using field strength meters to aim them to Cheyenne Mountain for maximum reception.
It was a natural for Kahle and Clinton to apply for and receive the channel 5 designation and they chose to be the NBC affiltiate. Starting in late 1952, the studio and transmitter site was built on "Big Hill" the highest point in Pueblo, It was difficult to find experienced personnel at that time in Pueblo. The chief engineer came up from Oklahoma. His assistant, had just done a tour of duty in the Navy in electronics. Other engineers came over to the television side from radio.
Russ Druesdell, was television weatherman and program director.

Dale Sinclair served as cameraman, stage manager and set builder.

Dick Roberts, a former "Flying Tiger" in China became our artist. Herb Campbell who had recently graduated from the Art Center in Los Angeles was the photographer.
Herb Campbell

Jackson Cravens was film director and editor. Bob Billman and Ken Reyhons were the news announcers. John Douglas was the first booth announcer and he also hosted live program, "Studio Five". There were others on that first staff but there names have escaped my memory.

The rush to get on the air was similar to being in a pressure cooker. On June 14, 1953, at 3 o'clock, we signed on with test pattern. There was an introductory message that was given from the booth by John Douglas. The gist of it was programs would start the next day and today gave everyone time to ad|ust their sets. At the time, this was a big deal with all tv sets that were sold.

Nearly all network programming was carried nationwide via coaxial cable that was owned by AT&T, The "hose", as it was referred to, went through Denver and bypassed Pueblo. The cost of stringing the hose from Denver at that time was pheonominal, Microwaving was relatively new and the quality of a tv signal over a long distance was marginal but it worked. Cunningham and his engineering staff found a "line of sight" from Lookout Mountain (KOA's transmitter), to Castle Rock, through a saddle on Monument Hill, to KRDO's transmitter on Cheyenne Mountain to Pueblo's KCSJ TV tower on Big Hill. The three "hops" from Denver diminished the television signal substantially but there was a network hookup through Denver's KOA TV.

Since the Pueblo market was small, the national advertisers would not buy southern Colorado which created a lot of consternation but that is another story.

There were no videotapes then. Nearly every program shown on TV were produced by the networks, NBC, CBS, and ABC. Syndicated programs were just getting started with a few being produced outside the network studios. The network "live" programs were kinescoped to 16MM film. While the quality of kinescopes was not good, it gave KCSJ a chance to carry popular network programs at better times because of the time differentials. Channel 5 started with a "kine" of "Captain Midnight" at 4PM, followed by kines of Frances Horowich's "Ding Dong School" and "Howdy Doody Time". Live news followed with Ken Reyhons or Bob Billman.

During that time, there was the "Modern Talking Picture Service", a company the specialized in the distribution of mainly promotional and educational 16MM films. A good deal of KCSJ's programming was provided by Modern Talking Picture Services in the beginning.

Bob Billman and Ken Reyhons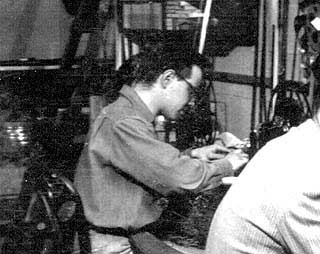 Music videos are not new. Channel 5 had a complete library of music films two to three minutes long. Film Director Jackson Cravens would edit or join several of these for the time needed (usually 28 minutes) and insert commercials if there were any, in the proper spots. The Four Freshmen were just getting their start and big bands such as Guy Lombardo, Cab Calloway and Les Brown and his Band of Renown were still popular.
Back to some of the consternations. The Pueblo television coverage was relatively small in 1953 so the national ad agencies would not "buy" channel 5. Occasionally they did buy Pueblo which made it easy to ride the hose. If there were no buys, KCSJ had to cut away and insert their own commercials and public service announcments and then rejoin the network at the proper time. The consternation came if channel 5 was not informed of when to cut away or when to resume programming. Nothing has changed since then because you can still see the same mistakes. Part of the breakaway problems then were AT&T or "telco" which owned and controlled the breakaways to selected markets.
In 1953, a fully operable kitchen set was standard in most studios. Mary Smith was channel's "Julia Child". After her program, the studio crew and other tv staffers ate the food props like ravaging monsters. The pay scale was so low then the props helped. Tivoli beer was still brewing for the southern Colorado market and the company purchased time on channel 5. Obviously their props were bottles of beer. (there were no cans then). There was a clients booth that overlooked the studio and it had a small cooler and was kept locked. That's where the beer props were kept.. Our sales "suits" as we called them would entertain clients with the beer props not knowing it was there for commercials. Tivoli had delivered two cases of their beer thinking that would be enough for their time buy. The suits and clients drank our beer in one week and did not tell the studio crew. The studio crew consisting of two cameramen, a sound boom operator, and John Douglas, the "on the air" talent were nearing panic as airtime approached. There was no time to drive to the closest liquor store to buy more so the creative juices kicked in. With an empty bottle, some left over food coloring from the kitchen show and some powdered soap from the ladies restroom was poured into the empty bottle. Airtime was thirty seconds away and by shaking the unholy mixture violently the bottle was handed to John Douglas with three seconds to go.
When the red light came on the camera, Douglas poured the mixture into the pilsner glass and it worked perfectly. The glass had a perfect head on it. The commercial was over in thirty seconds and nobody knew the difference. In fact, the Tivoli people called in to praise John Douglas for a job well done. John, being quick on his feet asked for more beer because too much had been used for rehearsals. They sent over two more cases and the studio crew hid the beer in the prop room where no self respecting suit would go.

There was only one film chain with two projectors with a rotating wheel that held twelve, 35MM slides. Dowsres were used to project through a mirror system into a stationary tc camera. The system worked fine but it did not allow a technical director to be able to preview before airtime. There were a multitude of make-goods for the goofs.

John Douglas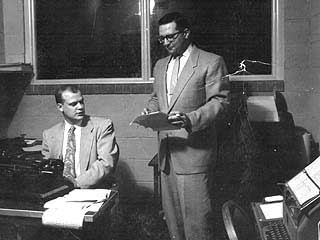 KCSJ-TV had many live shows to fill the on-the-air times. Our first "talk show" in 1953 was "Studio Five" and the host was John Douglas. It featured visiting dignitaries and celebrities with news features off the UPI news service. There was the kiddy show hosted by Buddy Johnson and princess Columbine played by Jada Willard. Viewers brought their young ones to the studio by reservation to be on TV. The reservation list was six months long.
Mi Ranchito featured Hispanic musicians and dancers.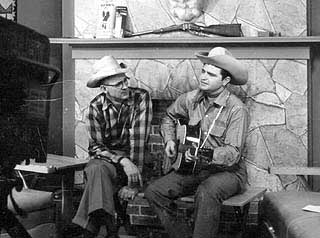 The Pueblo Barn Dance was hosted by our resident cowboy Buddy Johnson who also played the drums in his own band. Country and Western artists who played local night clubs welcomed the opportunity to promote themselves on local TV. Jim Reeves, Hank Thompson, Lefty Frizzell, Patsy Cline, Jim Edward and Bonnie Brown appeared, to name a few.
We had a local version of "Your Hit Parade" until Bill Haley and the Comets with his "Rock-Around-the-Clock" and Fats Domino's "Blueberry Hill" hit the music popularity charts. Our local band could not play "Rock-a-Billy" or "Rhythm and Blues" at the time.
It was a massive undertaking, but were several remotes in the early life of channel 5. To do a baseball game at Damon Runyon Field between the Denver Bears and the Pueblo Dodgers, a big metro van had to be rented by the engineers and vertually all the studio electronics had to moved. The cameras were so heavy, it took two persons to move each one and set them up. In those days with limited gear and no videotape, all live programming had to be re-arranged. With live commercials to be done, talent was placed on the roof to face that camera. His props if any, were on camera, two of which were at ground level near first base. Even the 10 o'clock news was done from Runyon Field on those remote days.
Somehow, most of the remotes went well.
There were many "capacitors and ohms" from the life of KCSJ-TV, now called KOAA-TV. There will more on this web site in the near future.